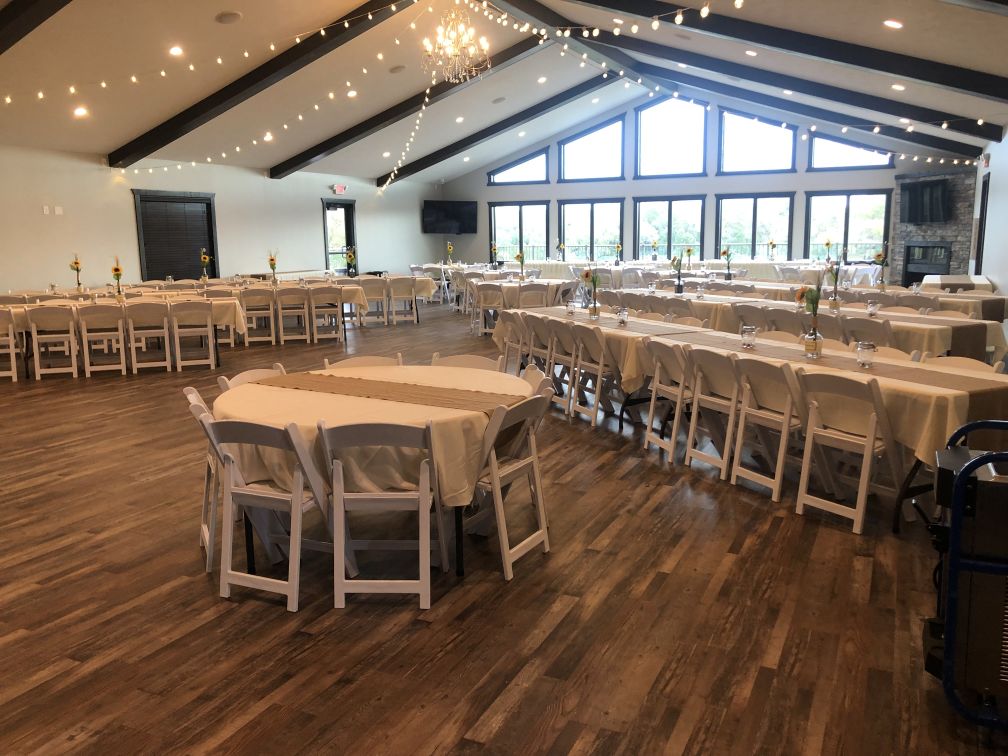 04 Oct

Event Center Specials
2 day Entire Property including 2 day Event Center
Regular price $13,300 Package price $11,500
3 day Entire Property including 2 day Event Center
Regular price $17,450 Package price $13,960
Additions
Outdoor Ceremony- $1.75 per chair (set up and take down)

Wait Staff- $100 per staff (Covers 4 hours)
Staff will serve guests, refill waters and hot beverage, assist with bussing tables and making sure the area stays clean during event serving time
Hot Beverage Station- $200 per event
Coffee, hot tea, and hot chocolate available
Electricity to the Beach- $150
Van or Bus Transport to and from Mitchell- $300
Teardown Fee- $500
We can provide cleaning services after event, we will remove decorations and safely store them for next day pick up.
All decorations, gifts and/or personal items must be removed at the end of your event. All clean up that is required will need to be done at that time and will require a walkthrough with a staff member before departing.
CALL FOR PRICING: Chairs for outdoor ceremony, specialty linens, stage for wedding party or band, and head table backdrop options
Capacity: up to 299 people depending on layout of tables
This agreement constitutes a contract between the event center guest(s) and Granite Springs ,LLC. Guest acknowledges and understands that by signing this agreement, he/she states that he/she has read and understands the written policies provided within and agrees with all statements included herein.
1) EVENT CENTER SECURITY/DAMAGE DEPOSIT: A $500.00 security deposit is required at time reservation is made for the dates requested. This deposit will be refunded within 7 days of your departure provided the required cleanup is done and no damages occurred during your visit and no violations of policies were made. We require a credit card to be on file prior to the start of the event.
2) LOSS OF SECURITY DEPOSIT: Event center guest agrees to leave the property in the same general clean and undamaged condition it was when you arrived. Event center guests are responsible for any damage, abuse, excessive cleanup requirements, or loss caused by any member of the event center guest(s) party to the property or its contents during event center guest(s) occupancy. Any damages or violations may result in the loss of all, or part, of the $500.00 security deposit and that we reserve the right to further bill him/her for additional cleaning or repairs
3) CANCELLATION POLICY: Any cancellation at any time results in forfeiture of your deposit. Cancellation prior to arrival date will result in the forfeiture of any payment that has been made.
4) PAYMENT POLICY: First payment is due 30 days after booking event, final payment is due 3 months prior to event. The security deposit does not go towards payment balance.
CHECKS: A $35.00 service charge will be incurred for all returned checks.
5) PROPERTY DAMAGE: Event Center guests acknowledges and understands that he/she is financially responsible for any and all property damage that may occur during the stated rental period which can reasonably be attributed to the rental party's negligence or abuse.
6) EARLY DEPARTURE/LATE ARRIVAL POLICY: No refunds will be made for early departures or delayed arrivals. No refunds or schedule changes will be made due to inclement weather.
7) Owners will not be held responsible for the failing of any other company service due to said company's error or service interruption. (i.e. electricity, satellite, water, gas, etc..) However, we guarantee that we will do all that is humanly possible to remedy any issue in the shortest time possible.
8) NO PETS INSIDE: If a pet belonging to any member of the rental party, or guest of the rental party, is found to be in the event center the guest will be asked to leave the property and agrees that the full rental fee and $500.00 deposit will be forfeited and acknowledges that any damage done by said pet shall be his/her financial responsibility.
9) The gas grill uses propane gas for cooking. DO NOT PUT CHARCOAL IN THE GAS GRILL! And please remember to turn it off when finished grilling! Thanks!
10) Granite Springs is home to a 60-80- foot deep spring fed quarry which is available to all guests at the lodge. It features activities such as fishing, canoeing, swimming, etc…Proper caution needs to be taken. Anyone under the age of 16 is required to be accompanied by an adult. Life jackets are required for EVERYONE.
ALL CANCELLATIONS MUST BE MADE IN WRITING VIA E-MAIL TO GraniteSprings@triotel.net.
————
PLEASE PRINT, SIGN AND MAIL ENTIRE AGREEMENT WITHIN 7 DAYS along with a copy of valid driver's license.